ASH 2015: Clinical discussant in this ASH/FDA session, Professor Paul Richardson (Harvard medical School, Boston, USA), discusses the clinical relevance of the new oral proteazome inhibitor ixazomib and two new monoclonal antibodies daratumumab and elotuzumab approved in the last few weeks by the FDA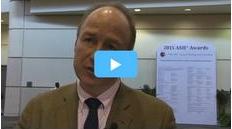 Experts try to provide clarity in dizzying myeloma landscape
by Thomas R. Collins: There's no doubt that the bonanza of new multiple myeloma therapies is a blessing to patients and their doctors.
But when it comes to decision-making, they can be considered a curse of sorts.
"With a plethora of riches comes the problem that we have numerous treatments for front-line therapy in multiple myeloma," said Vincent Rajkumar, MD, Professor of Medicine in the Department of Hematology at Mayo Clinic.  "This definitely leads to confusion in the community…. This was the result of the fact that we didn't have a single good randomized trial with a survival benefit of a modern therapy against another modern therapy."
His comments came in a hastily organized session, with U.S. regulators, meant to review the state of multiple myeloma therapy in up-to-the-minute fashion in a landscape featuring 7 new MM treatment approvals in the U.S. in 2015 — approvals which likely foretell the future of myeloma therapy throughout the world.
Proteasome-inhibitor (PI) carfilzomib achieved expanded approval earlier this year in the U.S., while oral PI ixazomib, along with monoclonal antibodies elotuzumab and daratumumab, received approvals in November.
There still aren't many of those head-to-head trials, but Dr. Rajkumar, with relief, pointed to one at ASH that showed an overall survival benefit of bortezomib, lenalidomide and dexamethasone (VRd) over lenalidomide and dexamethasone (Rd) alone.
"Finally we have vindication that this is a triplet that truly prolongs overall survival in multiple myeloma," he said.
So when it comes to daily decision-making on the ground, where do all of the new approvals leave clinicians? Dr. Rajkumar, in unusually specific remarks, said that, for initial therapy in standard-risk patients, Mayo uses VRd, but in frail patients, the clinic considers ixazomib-Rd.
"What strikes me is that this is a very simple regimen — three pills a months, once weekly for three weeks on, one week off," he said. "Number two, the side-effect profile is outstanding, virtually difficult to tell who's taking placebo and who's taking the drug. Also, some patients may not be able to take bortezomib because of the demands of travel or the intravenous or subcutaneous approach.
Therefore, even though the drug's approved for previously treated patients… for whatever reason I think it is reasonable to keep in mind that we may have a situation where we can use ixazomib-len-dex in clinical practice if the patient's best interest so dictates," he said.
In high-risk patients, VRd is also the first choice, but carfilzomib-len-dex could also be considered.
"This is another regimen worth considering, particularly based on the MRD rates being higher with carfilzomib-len-dex," he said.
He also didn't rule out quadruplet therapy attempts.
"One could also take another view and say you could add an antibody such elotuzumab or daratumumab to a triplet to try and improve the outcome of high-risk patients," he said. "This is not a wild strategy — this is already being done in a clinical trial by SWOG [cooperative] 1 looking at VRd vs. VRd-elo," with a plan for a VRD and VRd-dara comparison trial.
For maintenance, Mayo relies on lenalidomide in standard-risk patients, and bortezomib-based maintenance for high-risk patients, with consideration of ixazomib-based maintenance, with the potential for addition of monoclonal antibodies.
Sagar Lonial, MD, Chief Medical Officer at Winship Cancer Institute at Emory University, also said, in a separate session, that four-drug combinations might make sense, especially in the context of targeting genetic mutations. But he said the field is not at the point of that level of targeting yet.
"I would envision a time where you give a three- or four-drug combination and you look after three or four cycles at what's left, and then you use potentially mutation- driven therapy to try and eradicate clone or subclones in that situation," he said. "Four drugs — people scream, because of the cost — but if you can do if for a short duration and then you can narrow your therapy to a much easier approach, that would I think ultimately be a more cost-effective approach down the road."
Philippe Moreau, MD, Head of Hematology at University Hospital in Nantes, France, said it's important to acknowledge the differences in the trials of the recently approved regimens. After he presented the latest data on ixazomib, from the TOURMALINE study, he was asked about the "ideal patient" for the drug.
"That's impossible to answer," he said. "We have now three different combinations, len-dex plus elotuzumab, len-dex plus carfilzomib, len-dex plus ixazomib. We have to analyze carefully the data to see what subgroup of patients benefits most from one combination versus the other.
The patient populations across trials were totally different. When you are looking at the PFS (progression-free survival), there are some differences when comparing elotuzumab, carfilzomib and ixazomib for sure, but the hazard ratio across three trials are quite identical, in fact, indicating that the benefit could be similar." He emphasized that ixazomib is an "effective, safe, convenient, simple" all-oral option.
Paul Richardson, MD, Professor of Medicine at the Dana-Farber Cancer Center, said that, in the relapsed-refractory setting, taking into account the number of prior therapies, the frailty of a patient, and response to prior therapy are all important factors.
But the new options bring the possibility of new combinations, even when a single drug within that combination hasn't worked in a given patient before.
"A guiding principle in all of our work in relapsed-refractory disease is that in myeloma you can revisit classes of drugs that have been previously used recognizing the rational combinations of the same make extremely important sense as you see to salvage your patient," he said.
The field has seen dramatic successes recently, but new therapies are still being developed, he said.
"Thank goodness we have literally third- and fourth- generation novel agents now, and I would argue we need all of them," he said. "And therefore participation in clinical trials is absolutely vital."
 Reference
Brian Durie et al. Bortezomib, Lenalidomide and Dexamethasone Vs. Lenalidomide and Dexamethasone in Patients (Pts) with Previously Untreated Multiple Myeloma without an Intent for Immediate Autologous Stem Cell Transplant (ASCT): Results of the Randomized Phase III Trial SWOG S0777. Presented at the 57th Annual Meeting of the American Society of Hematology. 2015 Dec 5-8. Orlando FL. Abstract 25