UEGW 2015: Management of IBD after anti-TNF failure. Professor Laurent Peyrin-Biroulet (Nancy, France) discusses his presentation on when to use anti-integrins or anti-TNFs and the iCARE programme sponsored by ECCO.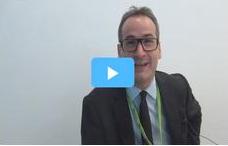 by Maria Dalby: Managing patients with active disease who fail to respond to anti-TNF therapy remains a key unmet need in IBD. Introducing a free paper session on treatment options beyond anti-TNF, Professor Alessandro Armuzzi from Rome reminded the audience that as many as 30-40% of patients in anti-TNF trials have been shown to be primary non-responders. Real-life series have shown a slightly lower primary non-response rate of around 10-20%, but coupled with the fact that there is a secondary loss of response of around 15-20% per patient-year of follow-up and that up to 60% of patients do not achieve mucosal healing, the unmet need is undisputable. A range of targets have been proposed for filling this need and are being explored in clinical trials. Vedolizumab, a gut-specific humanised monoclonal antibody against integrin α4β7, prevents adhesion to MAdCAM-1 and was recently approved by EMA for the treatment of moderate-to-severe ulcerative colitis and Crohn's disease. Other agents that target leukocyte migration include etrolizumab (humanised monoclonal antibody against the β7 subunit), the anti-MAdCAM-1 antibody PF-00547659, and oral sphingosine 1-phosphate receptor (S1P1) modulators. Professor Armuzzi also highlighted other compounds that are currently in development for the treatment of anti-TNF-refractory UC and CD, including ustekinumab which targets T-cell differentiation by blocking IL12 and IL23 subunits; tofacitinib which targets the JAK-STAT pathway by inhibiting JAK kinases, and the oral SMAD7 antisense oligonucleotide mongersen which restores TGF-β1 signalling and thereby suppresses the production of inflammatory cytokines.
The GEMINI 1 and GEMINI 2 studies have shown that vedolizumab is safe and effective for induction and maintenance therapy in patients with UC and CD, respectively.1, 2 In these studies, around one-third of the patients received an immunosuppressant at the time of entering the study. Professor Brian Feagan from London, Ontario in Canada presented a post hoc analysis of the GEMINI 1 and 2 datasets which indicates that the immunosuppressant can be discontinued in UC patients who respond to vedolizumab induction therapy without substantially affecting the efficacy of vedolizumab maintenance therapy. In CD patients, on the other hand, there was a trend in favour of continuing immunosuppressant use during vedolizumab maintenance therapy, and Professor Feagan stressed that prospective studies are needed to corroborate these findings.
Two European centres presented their real-life experience of vedolizumab for the treatment of UC and CD at this year's UEGW. Professor Daniel Baumgart from Charité in Berlin reported on the outcomes in 115 UC and 97 CD patients who received vedolizumab in hospitals and private specialist clinics all over Germany. More than 92% of patients had received previous biological therapy. In UC patients, the clinical response rate (improvement in the Harvey Bradshaw Index of 3 points or more) improved significantly during maintenance therapy, from 42.6% of patients at the end of the induction phase at week 6 to 57.4% at week 14 (p=0.001). The number of patients in clinical remission increased significantly during maintenance therapy in both the UC (from 11.3% to 23.5%; p=0.007) and CD (15.5% to 23.7%; p=0.013) cohorts. Vedolizumab had a significant steroid-sparing effect in UC. Being anti-TNF-naïve was a major predictor of remission.
The French real-life experience of vedolizumab was reported by Dr Aurelien Amiot from Paris. A total of 173 CD patients and 121 UC patients were included at 34 centres across France. In CD, the number of patients achieving the primary endpoint of steroid-free clinical remission rose from 19% at the end of induction therapy to 31% at week 14 (p<0.005). Significant improvements were also seen in secondary outcomes including clinical response and steroid-free clinical response. Similar remission and response rates were observed in the UC cohort. The safety profile was consistent with that seen in the pivotal studies.
In both the German and French cohorts, no clinically or statistically significant change in CRP levels was seen during maintenance therapy. Professor Amiot hypothesised that this may point to a lack of a systemic mechanism of action for vedolizumab.
References
 Feagan BG, Rutgeerts P, Sands BE, et al. Vedolizumab as induction and maintenance therapy for ulcerative colitis. N Engl J Med 2013;369:699-710.
 Sandborn WJ, Feagan BG, Rutgeerts P, et al. Vedolizumab as induction and maintenance therapy for Crohn's disease. N Engl J Med 2013;369:711-21.