Anastrozole is effective for treating early form of breast cancer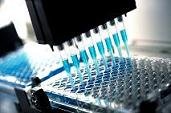 by Bruce Sylvester: Anastrozole appears to be as effective as tamoxifen in treating ductal carcinoma in situ (DCIS), a very early form of breast cancer, and could offer a new treatment option for post-menopausal women. Approximately one-fifth of all screen-detected breast cancers are DCIS.
Researchers reported the findings on November, 2015 at the 2015 San Antonio Breast Cancer Symposium, and published them simultaneously in The Lancet.
"We found that anastrozole and tamoxifen had similar overall efficacies, with slightly better outcomes for those who took anastrozole. But more importantly, because of their very different side-effects, anastrozole can be offered as an alternative for patients who may not tolerate tamoxifen as well or have previous illnesses making tamoxifen unsuitable," said lead author Jack Cuzick, Ph.D, professor of epidemiology at Queen Mary University of London.
Between March 3, 2003, and Feb 8, 2012, the investigators enrolled 2,980 postmenopausal women from 236 sites in 14 countries. They randomized the subjects to receive either anastrozole (1449 analyzed) or tamoxifen (1489 analyzed).
Median follow-up was 7·2 years (5·6 – 8·9 years).
The researchers reported 144 breast cancer recurrences. They found no statistically significant difference in overall recurrence between the two treatments (67 recurrences for anastrozole and 77 for tamoxifen). While the non-inferiority of anastrozole to tamoxifen was established, superiority was not (p=0·49).
Sixty-nine deaths occurred (33 for anastrozole and 36 for tamoxifen, p=0·78), but no cause was more common in one group than in the other.
Number of reported adverse event was similar between anastrozole (1323 women, 91%) and tamoxifen (1379 women, 93%). However, side-effects differed, with more fractures, musculoskeletal events, hypercholesterolaemia, and strokes among anastrozole subjects and more muscle spasm, gynaecological cancers and symptoms, vasomotor symptoms, and deep vein thromboses among tamoxifen subjects.
The authors concluded, "No clear efficacy differences were seen between the two treatments. Anastrozole offers another treatment option for postmenopausal women with hormone-receptor-positive DCIS, which may be more appropriate for some women with contraindications for tamoxifen. Longer follow-up will be necessary to fully evaluate treatment differences."
The study was funded by Cancer Research UK, National Health and Medical Research Council Australia, Breast Cancer Research Fund, AstraZeneca, Sanofi Aventis.