Video Interview and editorial from the BSH 2015: Professor Graham Jackson discusses the journey from despair to hope in multiple myeloma. Click on the image for interview and editorial.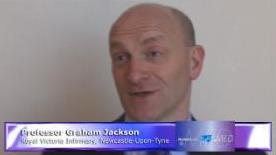 Graham Jackson, Professor of Clinical haematology, Newcastle upon Tyne and former president of the British Society for Haematology (BSH).
Article by Christine Clark: In the 1970s the prospect for survival from multiple myeloma was poor but progressive advances in treatment and in the understanding of tumour biology over the past 40 years have changed the picture dramatically.
The outlook for patients diagnosed with myeloma in the early 1980s was "very depressing" – a diagnosis of malignant myeloma was associated with a median survival of four months without treatment and two years with the addition of melphalan. At that time treatment with a variety of agents had been tried but "we had made no impact on the disease", said Professor Jackson.  The only useful information to emerge was that beta 2 microglobulin (B2M) was the strongest prognostic indicator for myeloma and also that a high fluid intake could protect renal function.
Next, in the late 80s, came the attempt to use multi-drug regimens.  The ABCM (Adriamycin (doxorubicin hydrochloride), BCNU, cyclophosphamide, and melphalan) regimen was compared with melphalan. The results showed overall survival (OS) of two and a half years compared with two years for melphalan alone. The MRC Myeloma VII study established the value of autologous stem cell transplant (SCT) in eligible patients. Response rates after transplant of about 80% were reported. The median overall survival was now three and half years whereas with transplants in younger patients median OS was approaching four and half years. "Finally with transplants – a very aggressive intervention – we were making a difference", he said.
Bone disease
Before the advent of bisphosphonates it was difficult to treat myeloma patients because of the "massive degree of skeletal morbidity", noted Professor Jackson.  Bisphosphonates interact with osteoclasts and interrupt the "cosy relationship" between the tumour and the bone marrow environment. Trial data showed that bisphosphonates reduced the numbers of patients with hypercalcaemia and with back pain. They also reduced height loss due to vertebral fractures and halved frequency of non-vertebral fractures.  Intravenous intensive bisphosphonate therapy with zoledronic acid dramatically reduced skeletal abnormalities.  An important discovery was that using bone-related therapy not only impacted on patients wellbeing but broght about improvements in progression free survival (PFS) and OS.
Renal disease
Very few myeloma patients now require long-term dialysis because prompt diagnosis and treatment is now possible. Light chain myeloma is recognised to be the biggest risk to kidneys. Bortezomib and dexamethasone treatment can bring down light chain levels. In addition large pore dialysers can be used when patients present with renal impairment. Other important measures include hydration of patients, discontinuation of nephrotoxic drugs, treating infections and, last but not least, "overcoming nihilism from renal physicians", he said.
Cytogenetics
In the early days myeloma was a "genetic desert" but over the past 10 years much has been learned from cytogenetics and now this disease is well-characterised from the cytogenetic viewpoint. Many translocations have been identified on the myeloma genome. Hyperdiploidy is a feature of myeloma and a number of extra chromosomes have been identified. About 18% of myeloma patients have MYC translocations and have poor prognoses with markedly reduced PFS and OS. Chromosome deletions also occur and deletion of chromosome 17 is associated with high-risk disease.
Myeloma is a "rapidly evolving disease". Mutation rates in patients who have 14;20 and 14;16 translocations are much higher than those without these abnormalities and this might account for their poor prognoses. The rate of mutation of the tumour genome has an impact on the response to therapy and survival. Those with the highest mutational load have the poorest outcomes. In future it may be possible to design treatment to target abnormalities for individual patients, suggested Professor Jackson.
MRC Myeloma XI and XI+ trials
The MRC Myeloma XI trial compared the combination of cyclophosphamide, thalidomide and dexamethasone (CTD) against cyclophosphamide, lenalidomide and dexamethasone (CRD) for induction. Patients with a sub-optimal response to initial therapy were then randomised to receive bortezomib or no further treatment. Eligible patients received transplants and then maintenance treatment with lenalidomide or vorinostat.  A further development involved the addition of carfilzomib – "a novel quadruplet of therapy" (Myeloma XI+).
Modelling of response rates shows that CR rates of 60-65% overall have been achieved. "Achieving a CR is really important in improving PFS – the deeper the response the better the chance of a good PFS and OS", noted Professor Jackson.
Minimal residual disease
The interaction between minimal residual disease (MRD) (assessed by flow cytometry of bone marrow) and cytogenetic abnormalities has been examined. Patients who are MRD-negative and have favourable cytogenetics have an eight-year survival of more than 80%.  This kind of analysis can only be done in the UK because of all the data amassed by the MRC trials, he emphasised.
Toxicity
Overall the toxicity of myeloma treatment has been "remarkably light", said Professor Jackson. Haematological toxicity is always greater in the older, frailer patients and a risk-adjusted study for elderly, (non-transplant) patients is now being planned. About 70% are likely to need dose-modification, he said.
One issue of concern is the potential for second primary malignancies (SPMs). Alkylating agents are known to be associated with haematological malignancies and in 2102 there was a suggestion that lenalidomide might cause SPMs. However exhaustive analysis of data from the MRC Myeloma XI trial suggests that the numbers of SPMS are low and the majority are skin cancers, which are non-threatening.
Myeloma XI+
Some 60% of patients who enter in to Myeloma XI+ will receive carfilzomib, a proteasome inhibitor, in combination with lenalidomide and dexamethasone (KRD). The ASPIRE trial involved the use of KRD in relapsed and refractory patients and the results showed that the combination had a major impact on PFS in both standard and higher risk patients. "The Myeloma XI+ trial will enable us to see whether this regime will make a big difference in up-front therapy for myeloma", said Professor Jackson.
The deeper response, the better the outcome, Professor Jackson reminded the audience "Really deep, stringent CR should be our target for the future", he concluded.