ASCO 2015 Report: In noninvasive breast cancer, anastrozole tops tamoxifen for recurrence prevention in postmenopausal women under 60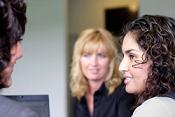 by Bruce Sylvester: Anastrozole is significantly more effective than tamoxifen in preventing cancer recurrence after lumpectomy and radiation therapy in postmenopausal women, age 60 or younger with DCIS (ductal carcinoma in situ). Also, in women over 60, anastrozole is as effective as tamoxifen.
On May 30, 2015 at the American Society of Clinical Oncology/ASCO Annual Meeting in Chicago, researchers presented these findings from a follow-up analysis of the original trial.
"This study provides a new option for postmenopausal women undergoing treatment for the frequently diagnosed non-invasive breast cancer," said investigator Kathy Albain, MD,  medical oncologist and director of the Breast Cancer Clinical Research Program at Loyola University Chicago Cardinal Bernardin Cancer Center. "These findings will help to better guide treatment decisions for physicians and their patients."
In the Phase III study, investigators randomized 3,104 postmenopausal patients with hormone receptor-positive DCIS to daily tamoxifen or anastrazole for five years. Prior to initiating hormone therapy, all subjects underwent lumpectomy and radiation therapy.
After an average follow-up of 8.6 years, the researchers reported finding 114 breast cancers in the tamoxifen group and 84 in the anastrazole group. This included recurrences of DCIS and new onset breast cancer (DCIS or invasive) in the same or other breast.
The 10-year breast cancer-free rates were higher for anastrazole (93.5%) than tamoxifen (89.2%), and the difference was statistically significant.
There were eight breast cancer-related deaths in the tamoxifen group and five in the anastrazole group.
Though 10-year overall survival rates were comparable (92.5% for anastrazole and 92.1% for tamoxifen), a subgroup analysis suggested that anastrazole is not superior to tamoxifen for 10-year overall survival in women over 60.
There were no significant differences in toxicity between the treatments.
ASCO expert commentator, Don S. Dizon, MD,  clinical co-director, Gynecologic Oncology, and director, The Oncology Sexual Health Clinic at Massachusetts General Hospital in Boston,  said, "Women with DCIS already have several great treatment options, and now they have one more. Aromatase inhibitors offer important advantages, but patients and their doctors should still consider the full range of options, including tamoxifen or even foregoing adjuvant treatment, as every approach carries its own risks and benefits."
The study received funding from the (US) National Institutes of Health.