Eyesight in MS protected by epilepsy drug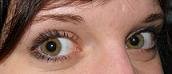 by Bruce Sylvester: Phenytoin, a drug used to prevent seizures in epilepsy, appears to help protect the eyesight of persons with multiple sclerosis (MS).  Researchers reported this finding in a study presented on April 16, 2015 at the American Academy of Neurology's 67th Annual Meeting.
"About half of people with MS experience at some point in their life a condition called acute optic neuritis, in which the nerve carrying vision from the eye to the brain gets inflamed," said author Raj Kapoor, MD, of the National Hospital for Neurology and Neurosurgery in London, UK. "The condition can cause sudden total or partial blindness, foggy or blackened vision and pain. Even though eyesight can recover eventually, each attack still damages the nerve and the eye."
The investigators enrolled and randomized 86 subjects with acute optic neuritis (within two weeks of showing symptoms) to treatment for three months with phenytoin or a placebo.
They measured retina thickness, the light sensitive nerve layer, at baseline and at six months. They also tested each subject for eyesight sharpness and color perception.
They reported that the phenytoin-treated cohort achieved 30 percent less damage to the nerve fiber layer compared with the placebo-treated cohort. And macula volume, the most light-sensitive part of the retina, was 34 percent higher in the phenytoin group than the placebo group.
There were no significant differences between the two groups in terms of  long-term visual outcomes.
"If this finding is confirmed by larger studies, it could lead to a treatment that may prevent nerve damage and blindness in MS, and could help other attacks of MS, serving a major unmet need," added Kapoor.