Risk of anastomotic failure after non-elective surgery rises with NSAID use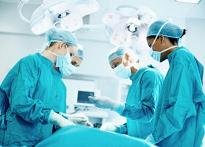 by Bruce Sylvester: Post-surgical nonsteroidal anti-inflammatory drug (NSAID) therapy appears to entail an increased risk of anastomotic leak at the surgical junction among patients who have undergone non-elective colorectal procedures, researchers reported in JAMA Surgery on Jan. 21, 2015.
"The results of this large statewide cohort study show that, among patients undergoing non-elective colorectal resection, postoperative NSAID administration is associated with a significantly increased risk for anastomotic complications,' concluded Timo W. Hakkarainen, M.D., of the University of Washington Medical Center in Seattle, and his co-authors. "Given that other analgesic regimens are effective and well tolerated, these data may be enough for some surgeons to alter practice patterns," the study concludes," they added.
As background, the authors noted that the postoperative use of NSAIDs has grown in recent years due to development of intravenous formulations, and because the treatment avoids the adverse effects of opioid pain relievers.
The investigators evaluated postoperative NSAID use and anastomotic complications among 13,082 patients undergoing bariatric or colorectal surgery at hospitals in Washington state from 2006-2010.
They found that 3,158 (24.1 percent) of the 13,082 subjects had been treated with NSAIDs postoperatively. They noted that the subjects who received NSAIDs were younger, had lower levels of co-exiting illnesses, a lower cardiac risk index and had undergone elective procedures more frequently than the subjects not treated with NSAIDs.
They found that the overall 90-day rate of anastomotic leaks was 4.3 percent for all patients, 4.8 percent in the NSAID group and 4.2 percent in the non-NSAID group.  NSAID use associated with a 24 percent increased risk for anastomotic leak, after risk adjustment.
The association was limited to non-elective (urgent) colorectal surgery subjects, with a leak rate of 12.3 percent in the NSAID group and 8.3 percent in the non-NSAID group.
The investigators found no similar NSAID effect among subjects who underwent elective (scheduled) colorectal or bariatric surgery.