Dual therapy for metastatic melanoma results in longer overall survival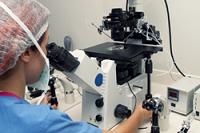 by Bruce Sylvester: Patients with metastatic melanoma treated with dual sargramostim/ipilimumab rather than ipilimumab alone have achieved longer overall survival and lower toxicity, but no difference in progression-free survival, researchers reported in the November 5, 2014 issue of JAMA/Journal of the American Medical Association.
"This randomized phase 2 study supports the evidence that the addition of sargramostim to ipilimumab therapy improved overall survival in patients with metastatic melanoma. These findings require confirmation in larger sample sizes and with longer follow-up." said F. Stephen Hodi, M.D., director of the Melanoma Center and the Center for Immuno-Oncology at Dana-Farber/Brigham and Women's Cancer Center in Boston.
For the  phase 2 clinical trial, Dr. Hodi and colleagues randomized 245 subjects with unresectable stage Ill or IV melanoma to treatment with  ipilimumab on day 1 plus sargramostim on days 1 to 14 of a 21-day cycle (n = 123), or to ipilimumab monotherapy (n = 122).
The researchers treatments for overall survival, progression-free survival, response rate, safety, and tolerability. Median follow-up was 13.3 months.
They found that addition of sargramostim to ipilimumab significantly improved overall survival, compared to monotherapy. Median overall survival was 17.5 months for the ipilimumab plus sargramostim and 12.7 months for the ipilimumab monotherapy. One-year overall survival was 68.9 percent for the combination therapy and 52.9 percent for monotherapy. There was no difference in progression-free survival.
There were more adverse events in the monotherapy group, and toxicity was significantly lower among dual therapy subjects.