ESMO 2014 Report: Adolescent and young adult cancer patients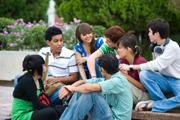 Engagement of patients and understanding of early death in this group by Denys Wheatley.
(1) When and why do teenage and young adult oncology patients die early in the cancer pathway?  (2) Adolescent and young adult cancer patients' (AYAs) participation as driver of a new "AYA proof" cancer care concept.
Two posters dealt with these interesting issues concerning the availability of proper caring support for youngsters undergoing cancer therapy. The first, in a team led by Elaine Dunwoodie (UK), has been particularly concerned with early death in young cancer patients of 13-24 years of age, many of whom seemed to fall between the services for pediatric and adult care. The study was based on the Northern and Yorkshire Cancer Registry in the UK – a 12-year retrospective analysis to the end of 2011. The question addressed concerned whether early death was particularly affected by the therapy the young patients had been receiving. Deaths within the first year from diagnosis were 95 out of 1137 cases. The earliest deaths were cases of lymphomas, leukemias and sarcomas, giving an average life expectancy of around 30 days. ALL had an HR of 1.86 (p~0.04) compared with gastric carcinoma at HR 10.9 (p<0.001), with gastric carcinoma accounting for the majority of all the deaths in the first year, followed by other GI tumours (eg, liver) and AML. With regard to the certification of death, only 4 of the 95 cases made any mention to the involvement of anti-cancer therapy, with the tentative conclusion being drawn that it did not overly contribute to demise.
The poster presented by Suzanne Kaal and her colleagues dealt with newly diagnosed patients (18-35 years of age) in The Netherlands, with an estimate of around 2200 cases per annum. Until recently there was no healthcare organization that devoted its attention to these patients and their "age-specific needs". However, Radboud University medical centre took the initiative in 2008 following input from the Dutch Patient Foundation "Young and Cancer". It prioritized the particular needs of the young sufferers regarding care, diet, education, spirituality, and end-of-life counselling such that dialogue has been opened up between them and the healthcare professionals. The group has now its own specialist nurse, with input into the programme from the oncologists themselves. The AYA expertise platform, a "driven digital community", will be extended to other places in The Netherlands. It is an idea that has now been developed into a model that could catch on elsewhere, fulfilling an obvious need for unfortunate youngsters with cancer. In essence it allows greater input from the youngsters regarding their treatment and care requirements during and after treatment.