FDA Highlights: Everolimus fails to improve overall survival in advanced liver cancer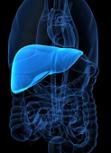 by Bruce Sylvester: In spite of preclinical signs of preventing tumor progression and improving survival, everolimus does not improve overall survival in patients with advanced liver cancer when compared to placebo. Researchers reported this finding in the July 2 , 2014 issue of JAMA.
Andrew X. Zhu, M.D., Ph.D., of the Massachusetts General Hospital Cancer Center, Harvard Medical School, Boston, and colleagues enrolled and randomized 546 adult subjects with advanced liver cancer into the phase 3 study. All had disease which had progressed during or after sorafenib treatment or were intolerant of sorafenib. They received everolimus (n = 362) or placebo (n = 184). They also received best supportive care. They continued treatment until disease progression or until experiencing intolerable toxicity.
The investigators reported no significant difference in overall survival between the study cohorts. They reported 303 deaths (83.7 percent) in the everolimus group and 151 deaths (82.1 percent) in the placebo group.
Median overall survival was 7.6 months in the everolimus group, 7.3 months in the placebo group.
"The results from [this study, EVOLVE-1] extend the list of failed phase 3 studies in advanced HCC, highlighting the challenge of developing effective therapies for this cancer," the authors concluded.
Sorafenib is currently the only systemic therapy that improves overall survival in advanced liver cancer, but it is transient and modest, with eventual disease progression.