ASCO 2014 Report – Early response to chemotherapy in colorectal cancer correlated to higher prolonged survival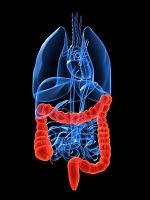 by Bruce Sylvester – Metastatic colorectal cancer patients who achieved early response to first-line chemotherapy also achieved significantly higher rates of prolonged survival, compared to patients who did not have an early response.
Researchers from the ARCAD advanced colorectal cancer database investigators group reported their findings in a poster presentation at ASCO 2014.
The investigators analyzed retrospectively data from 16 phase III trials, which included 10,962 patients treated with 5FU-LV/capecitabine alone or with oxaliplatin/irinotecan.
They evaluated for early tumor shrinkage (ETS; ≥ 20% decrease from baseline), early objective tumor response, early non-progression status at weeks 6, 8/9, or 12, and overall survival. Then they compared these findings with standard endpoints of best overall response and confirmed response among all patients treated with 1st-line chemotherapy.
They reported that early tumor shrinkage and early objective tumor response were significant predictors of overall survival, with hazard ratios similar to best overall response and confirmed response (p <0.0001). Adjustments for demographic variables did not change statistical significance.
Notably, subjects without early progression achieved showed the largest risk reduction (hazard ratios of ~ 0.3).
"Early responses are significantly associated with prolonged OS [overall survival] in mCRC pts [metastatic colorectal cancer patients] on 1st-line chemotherapy. Early PD [progression of disease] strongly correlates with an increased hazard of death," the authors concluded.
Citation: ASCO 2014 Annual Meeting;  General Poster Session, Gastrointestinal (Colorectal) Cancer; Abstract Number: 3538; Citation: J Clin Oncol 32:5s, 2014 (suppl; abstr 3538)