New way to predict prognosis in heart failure patients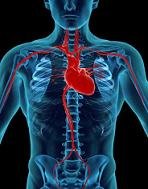 Researchers found a novel approach to predict outcomes in heart failure patients by imaging impaired energy metabolism in a diseased heart.  Researchers have identified a new method to determine whether a patient's heart will fail, which in the future may help physicians better treat patients and tailor therapeutic interventions. Their novel approach may help predict which patients with heart failure will do well and which patients will not.
"While various used methods are currently used for prediction, none of these methods are reflective of the underlying mechanism in the weak heart. Furthermore, some of these measures are not very consistent in their predictive ability. There is a need for newer methods which could potentially be more specific and reproducible," said Gurusher Panjrath, M.D., assistant professor of medicine and director of the Heart Failure and Mechanical Support Program at SMHS and co-lead author of the study published in Science Translational Medicine. "By targeting impaired energy metabolism, it may also be possible in the future to develop and tailor therapies to this new target."
Panjrath and his colleagues measured energy metabolism in 58 heart failure patients with non-ischemic cardiomyopathy, or heart failure not due to blocked arteries, using magnetic resonance spectroscopy (MRS). They then followed these patients for a median of 4.7 years, recording any hospitalizations, heart transplantation, placement of a ventricular assist device and death from all causes. They looked at adenosine triphosphate (ATP), an energy source for heart muscle cells, and an energy reserve called creatine kinase (CK), an enzyme that interacts with ATP to keep the energy supply constant in a beating heart. The authors measured the rate of ATP synthesis through CK, called CK flux, using MRS. The researchers found that measurements of CK flux were significantly lower in heart failure patients whose condition had worsened.
This new method of testing energy metabolism in the heart proved to be a significant predictor of clinical outcomes, independent of a patient's symptoms, race, or strength of the heart. While the researchers emphasize that larger studies would be needed to validate these results, the metabolic imaging method could be used in combination with other clinical parameters in devising a more complete prediction of heart failure events and death, helping doctors better plan treatment courses for their patients.
The paper is titled "Metabolic Rates of ATP Transfer Through Creatine Kinase (CK Flux) Predict Clinical Heart Failure Events and Death."
The co-lead author for the study was Paul Bottomley, Ph.D., professor and director of the Division of Magnetic Resonance Research at the Johns Hopkins University School of Medicine, along with Panjrath. The senior author for the study was Robert Weiss, M.D. a professor of medicine at the Johns Hopkins University School of Medicine.