ACR/ARHP 2013 Report – Triple DMARDs tops methotrexate in early rheumatoid arthritis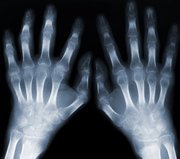 by Bruce Sylvester – Combined use of three DMARDs (disease-modifying antirheumatic drugs) for recent-onset rheumatoid arthritis (RA) is more effective than methotrexate monotherapy, researchers reported at the American College of Rheumatology 2013 Annual Scientific Meeting.
Researchers in the Netherlands enrolled 281 recent-onset RA patients in a single-blinded, randomized clinical trial of RA therapies called the treatment in the Rotterdam Early Arthritis Cohort, or tREACH.
As background, they noted that current guidelines do not recommend triple DMARD therapy of methotrexate, sulfasalazine and hydroxychloroquine for all newly diagnosed RA patients, even though several studies have suggested that triple DMARD therapy was more effective than methotrexate monotherapy.  The reason for not initiating treatment with triple DMARD therapy has been that the results were skewed by the use of glucocorticoids. There are also safety concern issues.
In this new trial, the investigators compared triple DMARD therapy with methotrexate, and compared two methods of glucocorticoid use as a bridging therapy.
"There is still debate on the most appropriate initial treatment regimen in patients with newly diagnosed RA," said lead investigator Pascal de Jong, PhD, Department of Internal Medicine, Erasmus Medical Center, Rotterdam, The Netherlands. "The most important discussion herein is that of initial methotrexate monotherapy versus a combination of DMARDs. Therefore, we investigated in our tREACH trial if triple DMARD therapy was better than methotrexate monotherapy independent of corticosteroids at treating RA symptoms."
The researchers randomized subjects to three groups, each treated with different induction  regimens. The first group of 91 patients received triple DMARD therapy, or 25mg methotrexate per week, 2g of sulfasalazine per day and 400mg of hydroxycholorquine per day, in addition to 120mg of intramuscular glucocorticoids given once. The second group of 93 patients received the same triple DMARD therapy with a tapered dose of oral glucocorticoids starting at 15mg per day. The third group of 97 patients received 25mg of methotrexate per week with a similarly tapered dose of oral glucocorticoids, starting at 15mg per day.
Subjects were 68 percent female.  Average length of showing RA symptoms was 166 days.
At baseline, 267 (95 percent) of the participants fulfilled the 2010 ACR Criteria for RA, 216 (77 percent) tested positive for anti-citrullinated protein antibodies (ACPA) and 48 (17 percent) had joint erosion.
Subjects were assessed every three months, with disease activity scoring and evaluation of data from the Health Assessment Questionnaire.
After 12 months of treatment, the researchers analyzed X-rays for disease progression.
The investigators reported that one year of triple DMARD therapy achieved better clinical effectiveness than monotherapy.  Burden of the disease over time was lower in the triple DMARD therapy groups compared with patients receiving methotrexate monotherapy.
Notably, at three months there was less treatment failure in both of the triple therapy groups, leading to 40 percent fewer prescriptions of biologic drugs. This difference held over time.
There were no significant differences of efficacy between the glucocorticoid bridging therapy approaches. The researchers reported that 19 percent of the first group, 23 percent of the second group and 21 percent of the third group showed radiographic progression of their RA.  There were  no differences in serious side effects between the three groups.
The researchers concluded that, in early-onset RA, triple DMARD therapy is better than methotrexate monotherapy, even after one year of therapy. Treatment goals are attained faster and maintained with fewer biologic treatments. Also, either oral or intramuscular glucocorticoids are equally effective as bridging therapy.
"We recommend initial triple DMARD therapy over methotrexate monotherapy as the first choice in newly diagnosed RA patients because treatment goals are attained faster and maintained with 40 percent fewer biological," added, Dr. de Jong.