ASCO opens 49th Annual Meeting urging more federal funding for research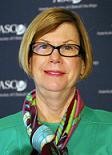 The American Society of Clinical Oncology (ASCO) kicked off its 49th Annual Meeting with leaders urging all stakeholders in cancer care to vigorously oppose cuts to vital US biomedical research funding.

"Our federally funded clinical trials system has achieved remarkable advances that have improved survival and quality of life for millions of people with cancer, but this progress is occurring under the cloud of federal budget slashing," said ASCO President Sandra M. Swain, MD, FACP (pictured). "Draconian cuts to biomedical research will slow our progress at the moment of greatest scientific potential and increasing worldwide need."
Approximately 30,000 cancer specialists from around the world are convening in Chicago for this year's event, held May 31-June 4 under the theme of "Building Bridges to Conquer Cancer." This year's meeting will feature 4754 abstracts and 3500 presenters.
ASCO Communications Committee Chair Bruce J. Roth, MD, noted that of the 20 abstracts designated by ASCO for special press briefings, 10 are based on research funded by the National Institutes of Health (NIH). Swain noted that even before the most recent cuts, researchers did not have the funding needed to move aggressively into precision medicine, and that funding for the NIH is at its lowest level since 2001 when adjusted for inflation.
The organization has called on Congress to maintain a strong commitment to federally funded research with a recommended NIH budget of $32 billion in fiscal year 2014. With more than 7.6 million individuals worldwide expected to die from cancer this year, and that number projected to climb to 12 million by 2030, "it really requires a comprehensive, coordinated response like we've never had before," Swain emphasized.
In addition to robust federal funding for the NIH and the FDA, organizers see strengthening the infrastructure for cancer clinical trials—including actions to reorganize and streamline the National Cancer Institute's Cooperative Group program—as well as completion of ASCO's CancerLinQ, an electronic data sharing initiative to facilitate rapid learning in cancer care, as critical components in advancing patient survival and quality of life.
This sharing of data from electronic health records and other data resources representing millions of patient visits is especially important, noted ASCO President-Elect Clifford Hudis, MD, because currently only about 3% of all adult patients participate in clinical research.The new resource will generate abundant information from patients whether or not they are enrolled in clinical trials, he said, yielding "real-time, personalized, individualized guidance and providing quality care feedback in real time to clinicians and practices."
Hudis noted that the CancerLinQ prototype, which was completed earlier this year, included data from over 150,000 patients with breast cancer and proved the feasibility of a rapid electronic learning system. The lessons learned from the prototype will guide further developments over the next few years, he added. "For researchers, CancerLinQ has the potential to unlock the wealth of anonymous data from patients and outcomes that is currently not tapped at all." Detailed results of the breast cancer data sharing standard prototype will be unveiled tomorrow (June 1) at 1:00 pm.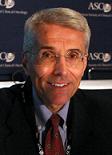 Richard Pazdur, MD
Richard Pazdur, MD, this year's recipient of ASCO's Public Service Award and director of the Office of Hematology and Oncology Projects in the FDA's Center for Drug Evaluation and Research, explained the important role that the FDA's new breakthrough therapy designation plays in bringing the most promising therapies to cancer patients.
Pazdur said that for new drugs to receive FDA's breakthrough designation,they must demonstrate dramatic improvements "that are really going to affect a patient's quantity and quality of life." He added that the breakthrough designation means that the agency is going to spend a considerable amount of time working with sponsors to accelerate the drug's development, working with them on a step-by-step, and sometimes on a monthly, basis to ensure that the package that is submitted will be able to be expedited in FDA's review system.
"It's really a different pattern and a different communications structure and working relationship with the sponsor; it's a continuous dialogue."
Asserting that "drug development in oncology is alive and well," Pazdur noted that in 2012 alone, 14 new molecular entities were approved, representing 40% of all US drug approvals.
"Are we ready to proclaim victory? Of course, we're not; there is a tremendous need for improvement," he said, projecting that agents emanating from this new era of personalized medicine and the associated companion diagnostics will continue to be a very active area for the FDA, along with further work on biomarkers to select the appropriate population to maximize patient benefit of these therapies.
– See more at: http://www.onclive.com/conference-coverage/asco-2013/ASCO-Opens-49th-Annual-Meeting-Urging-More-Federal-Funding-for-Research#sthash.7FUfAw07.dpuf