Pain from heart surgery disrupts sleep long-term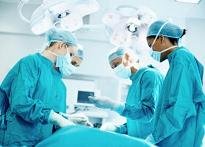 Heart surgery patients reported persistent pain for at least 4 weeks after the procedure, and that pain appeared to manifest as shortened total sleep time, researchers reported.
A month after surgery, mean total sleep time of 349 minutes had not returned to pre-surgery levels of 389.6 minutes, and the bodily pain score of 69.4 still showed more of an impact than before surgery, when the score was 81.2 (lower score meaning more pain, P<0.001), according to Rebecca Ann Lorenz, PhD, assistant professor of nursing at St. Louis University School of Nursing.
"Cardiac surgery patients often complain of sleep disturbances that may persist for months after hospital discharge," Lorenz reported at the annual meeting of the Associated Professional Sleep Societies. "Persistent pain coupled with disturbed sleep may slow recovery and reduce quality of life by creating daytime fatigue and reducing participation in physical activity."
A decrease in bodily pain by one point appeared to be associated with an increase in sleep duration by 2 minutes after controlling for baseline total sleep times, supporting the theory that the relationship between pain and sleep is reciprocal, Lorenz and colleagues observed in their poster presentation.
"More effective pain management strategies need to be developed for patients after discharge home," the researchers suggested. "In this study, cardiac surgery patients experienced bodily pain that shortened total sleep time for 4 weeks after cardiac surgery."
For the study, Lorenz enrolled 72 adults – 58 men and 14 women – who were undergoing their first elective cardiac surgery, for either a coronary artery bypass graft surgery or a mitral valve or aortic valve replacement surgery. About 85% were treated for isolated coronary artery bypass grafting.
The patients were about 64 years of age, and 93% were Caucasian. More than 85% of the group was in New York Heart Association Class 1 or Class 2.
Total sleep time was estimated using actigraphy in which actigraph watches were worn for 3 days before surgery; 3 days in the first post-operation week; 3 days during week 4 post-operation and 3 days during week 8 post-operation. Pain was measured using a subscale of the Short Form-36 (SF-36) Health Survey Questionnaire. The scale ranges form 0-100, with high scores representing lower pain.
Reference:

Lorenz R et al, "Sleep and pain in adult cardiac surgery patients" SLEEP 2013.