Pediatric asthma connected to genes and early wheezing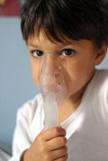 by Bruce Sylvester – taken from the NEJM – Approximately  90 percent of children who have two copies of a genetic variation and who wheezed when they had a cold (HRV/ rhinovirus) in early childhood developed asthma by age 6, researchers reported on March 28 by the New England Journal of Medicine.
"We found that the interaction between this specific wheezing illness and a gene or genes on a region of chromosome 17 determines childhood asthma risk," said study author Carole Ober, PhD, Blum-Riese Professor of Human Genetics at the University of Chicago. "The combination of genetic predisposition and the child's response to this infection has a huge effect."
The researchers studied two cohorts of children, one from the United States and one from Denmark, all  from families at high risk for asthma. The 200 subjects in the COAST cohort, based at the University of Wisconsin, had at least one parent with asthma, respiratory allergies, or both. They were followed from birth and evaluated for asthma at age 6. The 297 Danish subjects in the COPSAC cohort were born to mothers with asthma and evaluated for asthma at age 7.
The researchers first evaluated for links between genes, wheezing with viral infection, and asthma in the COAST group. Less than 30 percent of the subjects lacking the asthma-related genetic marker were subsequently diagnosed with asthma, compared to 40 percent of subjects with one at-risk allele and 50 percent with two at-risk alleles. Subjects with two at-risk alleles also showed  more HRV-related wheezing illnesses.
Notably, about 25 percent of subjects who had no wheezing illness from HRV had developed asthma. About 40 percent of those who wheezed in the first three years of life but lacked the risk-related genes got asthma. That increased to nearly 60 percent for those with one copy of the asthma-related allele and to 90 percent for those with two copies.
The investigators then sought to replicate that finding in a similar group, but from a different part of the world. From the Danish data they found that, even though the overall asthma prevalence was lower, there was more than an additive association between the at-risk genotype, wheezing illness in early life and an asthma diagnosis.