Double jointed teens risk RA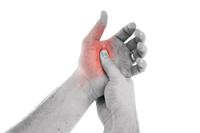 Young teens with joint hypermobility are at risk for developing a specific pattern of musculoskeletal pain in later adolescence, particularly if they are obese, a prospective British study suggested.
Joint hypermobility at age 14 was associated with musculoskeletal pain 4 years later in the knee (OR 1.83, 95% CI 1.10 to 3.02), the ankle and foot (OR 1.82, 95% CI 1.05 to 3.16), and the shoulder (OR 1.68, 95% CI 1.04 to 2.72, P<0.05 for all), according to Jonathan H. Tobias, MD, PhD, of the University of Bristol, and colleagues.
And the likelihood of knee pain in those who were obese was more than 10 times higher (OR 11.01, 95% CI 1.91 to 63.37, P for interaction = 0.037), the researchers reported online in Arthritis & Rheumatism.
Hypermobility of the joints results from excessive laxity of the articular ligaments and is often associated with local or generalized pain, but whether the relationship is causal has not previously been established.
To explore this, Tobias and colleagues analyzed data from the Avon Longitudinal Study of Parents and Children, a U.K. cohort that enrolled more than 14,000 pregnant women in 1991 and 1992.
Their children were invited to visit the researchers' clinic to be evaluated for joint hypermobility at about age 14, and again at age 18 to report on pain history.
Hypermobility was defined as a score of 6 or higher on the nine-point Beighton scale.
The study sample included 1,634 girls and 1,267 boys, 4.6% of whom had joint laxity. More girls than boys were affected (7.2% versus 1.3%, P<0.001).
At the second clinic visit, 45% reported having pain of at least a day's duration within the past month, again more often girls (47.5% versus 41.3%, P=0.001).
Pain occurred most commonly at the spine, shoulder, knee, and ankle/foot.
Regional pain that was at least "moderately troublesome", persisting for 3 months or more in the shoulder, lower back, hip, or knee, was reported by 4.8%, and widespread chronic pain by 4.4%.
In an unadjusted analysis that included both boys and girls, the risk of pain at the shoulder, knee, and ankle/foot was almost doubled in those with joint hypermobility. Risk also was nonsignificantly elevated for pain in the thigh and lower leg, as well as for both regional and widespread chronic pain.
No association was seen for joint hypermobility and pain in the neck, upper arm, elbow, wrist or hand, or hip.
Participants also rated pain severity on a scale of 1 to 10. Those with hypermobility reported mean scores of 5.92 for their worst pain at any site in the preceding 6 months, compared with 5.41 in those without loose joints (P=0.054).
Among specific sites, significantly higher "worst pain" scores were seen for the ankle/foot (8.17 versus 6.98, P=0.018).
However, the degree to which pain caused problems in routine activities was not associated with hypermobility, the researchers found.
The results of this study differed from what was found in a recent meta-analysis, in which no association was seen between hypermobility and musculoskeletal pain in European populations.
Possible reasons for the discrepancy, Tobias and colleagues noted, included the prospective design of the current study, its large population, and a higher cutoff being used to classify hypermobility. In some previous studies, they noted, the cutoff was 4, rather than the 6 they used.
A further difference was that in this study, unlike in earlier ones, the location of the pain was specified, and a recognizable pattern of pain sites — shoulder, knee, and ankle/foot — was identified.
"This distribution is in keeping with a pathway whereby joint hypermobility leads to pain as a consequence of stretching of the joint capsule and/or ligaments due to excessive laxity, to which certain joints may be more susceptible such as the shoulder (due to lack of inherent stability) or knee and ankle/foot (due to high forces exerted by weight bearing)," the researchers explained.
The greatly increased risk for knee pain in obese adolescents with joint hypermobility also has implications for the later development of osteoarthritis, when laxity might interact with excessive weight to place further strain on the joint.
Limitations of the study included the selected population and possible bias, as well as a lack of information about baseline pain and the possibility that unmeasured injuries might contribute to pain.
"Further studies are justified to determine whether the increased risk of joint pain in adolescents with joint hypermobility has long-term sequelae, including an increased risk of osteoarthritis in later life," concluded Tobias and his colleagues.
The authors reported no conflicts of interest.
Reference:
Tobias J, et al "Hypermobility is a risk factor for musculoskeletal pain in adolescence: findings from a prospective cohort study" Arthritis Rheum 2013; DOI: 10.1002/art.37836.