IASLC World Congress on Lung Cancer 2011: Advances in the Treatment of Lung Cancer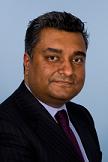 Foreward by Dr Sanjay Popat (pictured).  The 14th Annual Scientific Meeting of the IASLC has now closed. Held in Amsterdam at the beginning of July 2011, the annual convention into advances in thoracic oncology continues to grow. This year, just over 7,000 delegates registered from more than 100 countries, with 1,881 abstracts submitted. Key data from Phase 3 trials were presented, some updating previous presentations from the most recent ASACO annual meeting, others presenting novel sub-set data, and some presenting entirely new data. In this edition of Oncology.Med, Dr Upadhyay presents key data and topics of direct clinical relevance, overviewing the data presented and putting it into clinical context.
Two years ago the theme of the meeting was around personalized care. Now, with the advent of EGFR genotyping standard of care in the Far East, Asia, Europe, and the US, and with crizotinib recently gaining FDA label, this concept is very much here to stay. In this meeting Dr Gervais presented an update on the long-awaited EURTAC trial. This randomized Phase 3 trial of erlotinib versus platinum-doublet chemotherapy in patients with known EGFR L858R or exon 19 deletions hosted in Europe, met its primary endpoint– progression-free survival (PFS) – confirming the concept of EGFR kinase inhibition demonstrated in the previously published East Asian first-line randomized Phase 3 trials of gefitinib (IPASS, FIRST SIGNAL, NEJ002, WJTOG3405) and erlotinib (OPTIMAL). Indeed Dr Zhou's update of OPTIMAL continued to demonstrate a major improvement for erlotinib over carboplatin/gemcitabine for PFS in this dataset.
Also at WCLC mature data from the randomized Phase 2 trial of METMab in combination with erlotinib versus erlotinib alone were presented. This Phase 2 trial which has already been presented several times previously, highlights the role of personalized medicine by using an appropriate companion diagnostic in an exploratory manner, and trial design whereby all patients received trial drug regardless of biomarker status in order to truly demonstrate a benefit of the biomarker. The biomarker concerned is MET expression, by immunohistochemistry. Here, whilst the addition of METMab did not improve OS in the intention to treat population, patients with tumours with high MET expression gained a significant OS advantage for MET inhibition. Interestingly, the METMab and erlotinib low group had inferior survival compared with erlotinib alone, and so the development, validation, and assessment of the MET immunohistochemistry assay will be of key importance for the future development of this drug.
The BTOG2 trial was an eagerly anticipated UK Phase 3 study presented by Professor Ferry, which aimed to investigate an ongoing question in thoracic oncology: when considering a platinum-doublet regime, should one use a cisplatin or carboplatin-based backbone? This is of clear direct clinical relevance, since many patients are of borderline suitability for cisplatin, and the shorter treatment times, and more favourable non-haematological toxicity profile of carboplatin, make it an attractive option. These results demonstrated non-inferiority of carboplatin (Wright AUC 6 dosing) compared with cisplatin 80mg/m2, and that this was superior to cisplatin at 50mg/m2. These results are discussed and critiqued further.
Advances in the management of small cell lung cancer (SCLC) have significantly lagged behind that of NSCLC, with no major drug therapeutic advances for several years. Again, no novel data were presented that will be practice changing, but the ACT1 trial data were updated. Here patients with relapsed extensive stage SCLC were randomized between amrubicin (a novel third-generation anthracycline with excellent cardiac safety) or IV topotecan. These were by-and-large good performance status patients (PS 0-1 was an inclusion criterion). Unfortunately the primary endpoint of superiority for overall survival was not met, with similar survival between the two arms. There was, however, an improved response rate with amrubicin.  Whether these data will be sufficient for registration purposes will become apparent in due course, but on the face of it, many were disappointed by the efficacy data, in a drug that has promised so much from previous Phase 2 data both in East Asian and Western datasets.
In a heated session, the results of the only randomized trial of surgery for mesothelioma (MARS) were presented. Here, in a pilot trial, 57 UK patients were randomized to triple therapy with chemotherapy, extrapleural pneumonectomy (EPP) followed by adjuvant hemi-thoracic radiotherapy, or chemotherapy alone. Even with around 25 patients in each arm, a clearly inferior overall survival for EPP was demonstrated, which was associated with an inferior quality of life. Is EPP the correct operation for mesothelioma? Are the MARS results applicable to other non-UK centres routinely offering EPP in specialist centres? Are the MARS results due to inferior UK surgical expertise? These matters will be discussed in the literature over the next few months, but in the UK, the full EPP trial that MARS was the pilot to has been abandoned following these results. As a consequence, MARS2 is being designed and will aim to investigate the role of pleurectomy-decortication in a randomized setting. The role of this type of surgery has been published from several retrospective series as Dr Upadhyay discusses, with very impressive survival figures. Whether these retrospective data are truly reproducible in the prospective setting will be tested. Until then, the role of surgery in mesothelioma remains debated.
In summary WCLC 2011 continued to highlight several advances in the management of thoracic oncology patients, the understanding of tumour biology, and its application to clinical practice. We look forward to the next meeting in 2013.
Dr Sanjay Popat BSc, MBBS, MRCP, PhD, Clinical Senior Lecturer, Imperial College, London and Honorary Consultant Medical Oncologist, Royal Marsden Hospital, London