Liposomal ivermectin in cancer treatment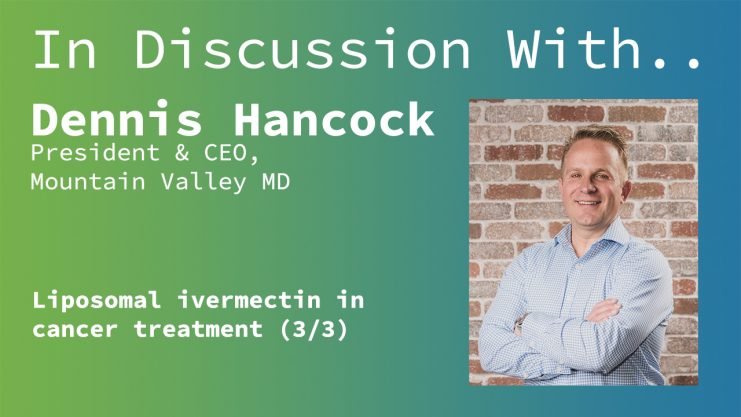 Interview and article by Christine Clark.
The anti-tumour effects of ivermectin have been described in the literature and the liposomal delivery system developed by Mountain Valley MD could be the key to making this work in practice, according to Dennis Hancock, President and CEO of Mountain Valley MD.
The anti-tumour effects of ivermectin have been reported in the literature but a major limitation of the use of the drug has been its solubility and the absence of an injectable form for human use.  This could change now that Ivectosol (liposomal ivermectin) has been developed. 
For example: pembrolizumab is approved for PD-L1-positive, triple-negative breast cancer but only about 20% of cases fall into this category. Immune checkpoint inhibitors, such as pembrolizumab, are most effective in 'hot' tumours i.e. those that are already infiltrated by T-cells. Ivermectin induces immunogenic cancer cell death (ICD) and robust T-cell infiltration into breast tumours. This effectively turns a 'cold' tumour into a 'hot' tumour and enhances the efficacy of immune checkpoint inhibitors.  It may be possible to inject the Ivectosol directly into the tumour to achieve this.
Mr Hancock says, "So the business value proposition really simply is, we take the best-selling and best-acting drugs and expand their ability to be used on … more types of cancer on a broader spectrum. So you still need the cancer drug and what our Ivectosol does is it enables it to be used in a broader universe and thus the efficacy of extending their patents. In our case it's a brand new patent filing so it gives companies at 20-year patent window to do really amazing things with their drugs."
The company is now undertaking pre-clinical trials in metastatic melanoma, non-small cell lung cancer, triple-negative breast cancer, and, possibly, bladder cancers.  Results are expected by the end of August 2021. In the meantime, plans are in place for production of Ivectosol for human trials.
Mr Hancock says, "What's really exciting about the work that Mountain Valley MD is doing is we're enabling drugs that have already been proven in their efficacy and safety to do better and do more faster  – so we're not asking people to 'wait five years and see'…"
In summary he says: "Our business model is to take these very difficult molecules – the more fragile the better in one sense …- overcoming [the limitations] and giving them back in a way that could achieve more.  A lot of our work that's focused on speed is starting in third world countries …….  billions of dollars wasted on death and treatment rather than life and prosperity is a really big thing for our company.  …. It's pretty cool that [a lot of our work] is starting with the most disadvantaged where vaccines and drugs are difficult to get to the people who need them most [because of] cost and infrastructure. A lot of the stuff we're doing is really nimble and appropriate for those markets so it's been an honour to work with partners in those markets to do something I just know will have a broader impact on the health and wellbeing of those populations."
Read and watch the full series on our website.